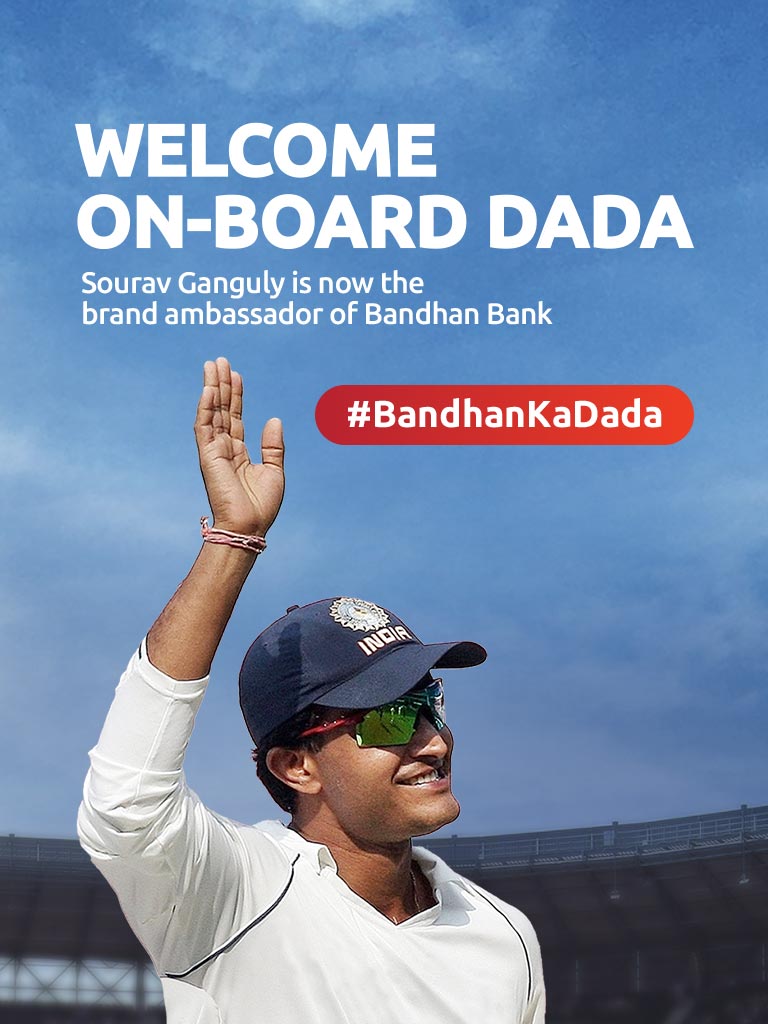 Bandhan Bank on-boards Sourav Ganguly as brand ambassador.
Welcome, Dada!
We are happy to announce Sourav Ganguly as our brand ambassador. Fondly called Dada and The Maharaja of Indian Cricket, Sourav Ganguly will be the voice of brand Bandhan Bank and will help us take our message to the masses.
Bandhan Bank and Sourav Ganguly are two brands that have a lot in common, especially in the values that they uphold. Ganguly led the transformation of the Indian cricket team in the early 2000s, just like Bandhan led the transformation of not-so-privileged households in rural and semi-urban India. Both brands have their origins in East India, yet, today are spread far and wide. While Ganguly is a global icon, thanks to his cricketing achievements, first as a player, then as a captain, and further, as an administrator, Bandhan Bank is a pan-India bank that provides banking services to all, big or small, through its 5,644 banking outlets spread across 34 of the 36 states and union territories in the country.
With Dada's magnetic persona now a part of Bandhan Bank, we are confident of reaching larger audiences and taking the Bandhan Bank message to them. This association is another step towards connecting strongly with consumers across the spectrum and reinforcing our ongoing mission of inclusive banking.
Here is a small message from Sourav Ganguly on his association with Bandhan Bank.
---
Watch the press announcement of the association, below.